The International Baccalaureate Organisation (IBO) is based in Geneva and is independent of any interference from national governments and therefore the Diploma has not suffered from any grade inflation. This is one of the reasons why more and more schools opt for the IB Diploma which was recently rated "10 out of 10" by the Financial Times. With currently 4,998 participating schools, from 146 countries, the IB Diploma is truly a worldwide qualification.
So Many Universities to Choose From
St Edward's students achieved excellent results in their International Baccalaureate qualifications in 2016. Our cohort achieved a 94% pass rate, 32 point average. The maximum point score a student can obtain is 45 points. We had two students who achieved a 40 point score and one student who achieved a 41 point score.
University destinations for students who've graduated St Edward's College include UCLA (University of California, Los Angeles), McGill University , Montréal, Canada, University of Southampton, UK, The Arts University of Bournmouth, UK, Lille Catholic University, France, University of Groningen, Netherlands, University of Aberdeen, UK, University of Debrecen in Hungary, Kadir Has University, Turkey, Politecnico di Torino, Turin, IMC University in Krems, Austria, University of Essex, UK.
University College, London, UK, Imperial College, London, UK, Medical University of Gdansk, Poland, LUISS Business School, Rome, Italy, University of Liverpool, UK and Bocconi University, Milan, Italy.
I appreciate you taking the time to visit our website; your choice of school is an important one for you, your children and for us.

If you have any questions or need clarification as you browse through our website I'd be more than happy to speak with you.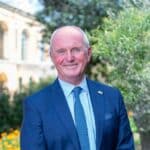 Headmaster
Mr Nollaig Mac an Bhaird