There are moments in our daily work as educators that we will never forget. This morning an Early Years boy, greeted me, 'Good Morning Headmonster'. Precious! (if I am Headmonster that makes all the other staff…?).
PD Day
This coming Monday, May, 3rd, we will have all staff involved in a PD day. There will be no school for our students.
The approach we are taking is innovative for many schools, not just in Malta but worldwide. There are risks involved both for the process and for individual members taking part. We will be incorporating all the information from our questionnaires, students, parents, staff and Board of Governors into the process.
It is a new approach. We all know that anything 'new' means 'change' and change requires participants to have courage and take a certain leap of faith.
One of the 'oddest' aspects for the process is that the groups that are formed during this initial session will not be from the same section nor indeed department. There will be LSEs from Early Years mixing with admin' staff and Senior school teachers, Junior school teachers sharing ideas with IB teachers and student support staff. Some of the teachers in one building are unfamiliar with their colleagues in another far-off corner of what is one of the most spacious and beautiful campuses in the country.
I still remember when I was introduced to the mixed group approach, some years ago, I was sceptical. It does involve thinking outside the box and now, having used this format several times, I have total belief in it. It does work!
Group leaders have been appointed, the greatest number in any group is 9, all groups will be in the biggest classrooms we have, all COVID protocols will be strictly adhered to.
I will keep all community members updated on the outcomes of what will be the first step in an exciting journey. Our gratitude goes out to Mr. Moore who will be guiding us on this journey.
Year 11.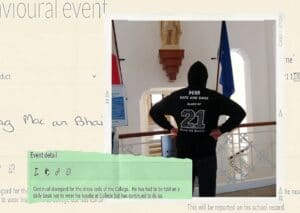 I would like to thank all teachers, from Early Years to Senior school and in particular Mr. Caruana Smith for a very enjoyable day this past Wednesday, tinged with a bit of sadness as our Year 11s said goodbye to us. The 'hoodie', for which I received a Green Note, was a fabulous idea and is a special memento that we will all treasure.
Summer/Winter (COVID) uniforms
SMT will be making the decision this coming week as to when we will make the change from winter to summer uniforms. You should know by this coming Wednesday of the outcome.
Wishing you all a relaxed weekend.
N. Mac an Bhaird, Headmonster.