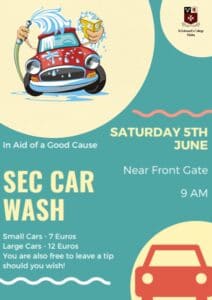 One of our staff members who has been with us for over 40 years needs our help to purchase a chair lift for his wife due to a serious medical situation.
Three of our LSEs, Ms Charmaine Cucciardi, Ms Roberta Sghendo and Ms Fabienne Vella, will be organizing a car wash on Saturday the 5th of June. It starts at 9 am and it`s happening in the front garden of the College. The minimum donation is €7 per car for small cars, €12 for larger ones. You are also free to leave a tip should you wish! ALL proceeds will be going towards this cause.
So, now that Summer is approaching, you might want to have your car washed, Edwardian style 😊. Please feel free to share this with your friends and family.
The response so far from individuals, parents, teachers, LSEs, companies has been truly incredible. It does bring out the spirit of St Edward's as a caring community. Makes one feel proud to be part of SEC and the SEC spirit! If you would like to help out, and not have your car washed, you can donate by cheque, payable to St Edward's College.
Gems at St Edward's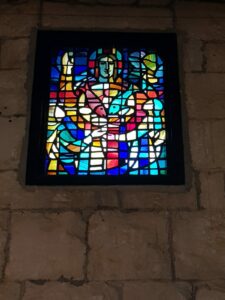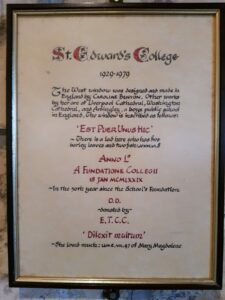 I am often reminded of the quality and history when working at St Edward's. This is the stained-glass window above the entrance to the chapel. It is the work of Caroline Benyon. Ms Benyon drew much of her inspiration from the scriptures. In this case, and thank you Fr. Emmanuel, the boys come in at a young age, pass through the chapel door, 2 loaves and 5 fish, and when they leave having passed through college, they do as the disciples did, and feed the multitudes.
Perhaps not with bread and fish but with the ethos and spirit of an Edwardian.
Uniforms
At St Edward's we pride ourselves on many aspects of college. We have been understanding of the stresses that this year has brought to many of us, perhaps all of us.
I have been asking for cooperation with our dress code. Also, I have seen the great majority of parents and boys make the effort to comply with our requirements. Meanwhile, I have spoken with boys individually regarding their summer uniforms.
As I have said, most have made the effort and the students are in the correct uniform.
Starting from Tuesday, June 8th all boys are expected to have the correct St Edward's summer uniform unless I receive a note from a parent explaining why this is not possible.
Boys who do not comply should not come to college and can follow lessons online.
Phones
We are currently reviewing the Bring Your Own Device (BYOD) policy which had been put in place as a pilot prior to COVID. The main device is the mobile phone or a smartwatch.
Sadly, I have received reports from teachers that for many of our students the temptation to use their device for non-educational use is too great. It is distracting to the user, distracting for other students in the class, leads to time being wasted for teachers hence the other boys in a lesson.
Ideally, your child does not bring the phone to college.
If you feel that the phone has to come to college it is to be handed in, to the Section Head before lessons start and can be collected after college ends. The phone may not be taken for break/lesson/revision/any other reason before the end of the day.
If students do choose to bring devices it is at their own risk. If a device is lost/broken/taken 'disappears', the college will not be held responsible.
If your child does need to contact you this can be done by coming to the office and making a call.
We will pursue the BYOD option again in the future.