Over the past few days, the students at St Edward's College experienced the joy of reunion. After months, almost a whole scholastic year, of online learning, over the past few weeks, they have returned to school and were re-united with their friends. The college maintains strict class bubbles so that even where the students were quite close, they were still within the approved bubbles. Also, the materials used such as medals, cups and props had been sanitized and quarantined for over a week. Even more, the cups, medals and awards were picked up by the boys themselves. These activity days were designed by the teachers to substitute Sports Day since this was not possible due to the Health restrictions. The activities involved required groups to be formed within the respective class bubbles so that fun could be had, safely.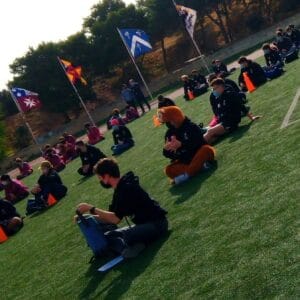 Sports awards
The Senior School students received their awards for sports activities held during the year. The awards were well attended and students who had been following online, such as the final year students, Year 11s, largely opted to attend what is considered as their 'Last Day' at school. Some of these students are serious athletes and their hard work was recognised in the cups and medals they obtained. Sean Gatt (Congreve), Yazan Geblawi (Ducane), Michael Borg Manche (Campbell) were the winners of the Victor Ludorum trophy as overall winners in their respective fields.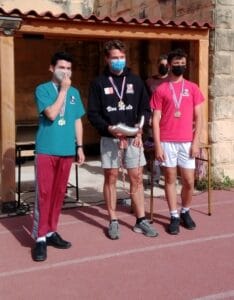 Sweep Stakes
Young or younger, students all need to let off steam and, if sports was out of the question, activities suitably distanced were still possible. One of the activities which raised most laughs was the use of brooms instead of hockey sticks. 'Sweeping' a ball around stakes in the ground using a broom proved to be as (in)effective as a hockey stick in achieving (sock)ball control, as well as acquainting youngsters with the cleaning implement. Another source of mirth was the Dizzy Blindfold Penalties – yes, that's right…blindfolded, spun around and expected to shoot penalties. The safest place to be, according to eyewitnesses, was the net.
The Mole Hunt
The star of the day was The Mole Hunt. The Year 11 students were 'bubbled' together and, using the principles of a Treasure Hunt, went round the college premises looking for clues. Searching high and low, they had to identify who it was who was 'grassing' on their deepest darkest secrets to the teachers. And meanwhile, some football was played and perhaps a dance lesson did not come amiss.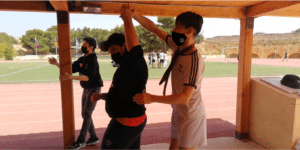 Soon the Year 11s will be attending their 16+ exams and moving on in life, even if some will stay in the college for their Sixth Form years to complete the International Baccalaureate. We wish them all the luck in the world, assured in the knowledge that they will forever hold dear their college motto Virtus et Honor.